Full Arch Replacement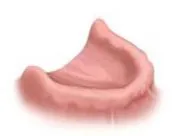 Benefits of a fixed bridge on implants
When all teeth are missing or in such condition that they need to be replaced, a fixed bridge anchored to dental implants is the best permanent solutionBefore dental implants, there was no fixed solution available for people who lost all their teeth. Today, it is possible to replace a full jaw with dental implants and a fixed bridge that results in a permanent, stable and high esthetic solution.
Lets you eat and function like having natural teeth
A solid, stable solution that will serve you for life
Preserves your facial appearance and prevents bone loss
Treatment:
Teeth in a Day/Teeth in an Hour
Utilizing groundbreaking technological advances based on long-term, sound, scientific research, we can now place a full arch of implants and immediately restore them with an amazingly lifelike, highly esthetic, and functional restoration. If a patient has existing teeth that are badly broken down or in a poor state of health, then they would be a candidate for a "Teeth in a Day" procedure. If a patient is already missing all their teeth then they would be a candidate for "Teeth in an Hour".
Course of Treatment
Teeth in a Day:
The patient with a failing natural dentition would first undergo initial appointments with Dr. Stranigan, Askeland, or Harris as well as with an oral surgeon. During these appointments, computerized scans of the head and jaws would be taken to determine bone position and density, and the doctors would address cosmetic and functional concerns to ensure proper smile design. On the day of treatment, the surgeon would remove all the remaining teeth and place the implants (a minimum of four to six implants on the lower jaw and usually at least six or more on the upper). A new fixed bridge would then be securely attached to the implants with screws and the patient would leave the office the same day with a full arch of beautiful teeth. After wearing this initial bridge for several months, a new final bridge would be made to account for changing the position of the gums. The initial provisional bridge would then serve as a backup in case there was ever a need for repairs on the final bridge. By design, Teeth in a Day patients should never have to go without a fixed set of beautiful teeth in their mouth.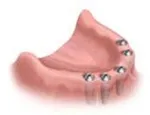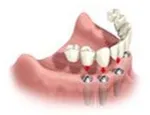 Teeth in an Hour:
For the patient who is already edentulous, the concept of Teeth in an Hour is remarkable. First, Dr. Stranigan, Askeland, or Harris would assess the cosmetic and functional needs of the patient. Then, in conjunction with an oral surgeon, computerized scans of the head and jaws would be made to determine bone density and volume. Using a special denture (or the patient's existing denture may be able to be used) the computer scan marks the position where the new teeth should be located. On the day of the surgery, the surgeon uses a computer-generated guide to place the implants exactly where they need to go. A new fixed bridge with uncompromising esthetics is then secured on top of the implants with screws. This whole process can often be done in just over an hour! For the first time since losing their natural teeth, the patient will be able to talk, eat and enjoy life with the confidence of having a permanent, fixed, smile.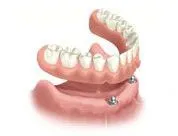 Alternatives to a Fixed Bridge
An alternative to a fixed bridge is a removable overdenture, which is anchored on implants. The old fashioned denture has many disadvantages and should be avoided if possible.
Removable, implant anchored overdenture
A removable full denture that is connected to either a ball or bar attachment, which in turn is anchored on two or more implants in the front part of the jaw.
The implants help keep the denture in place and provide better function and comfort. Cost is usually the reason why this solution is chosen over a fixed bridge – although the end result can't be compared.
Removable full denture
A denture that is loosely placed on top of the gum to cover the lost teeth. This alternative has no real advantages – except for its low price and easy installation.
The disadvantages are many: discomfort in eating, poor esthetics, affected speech, and sore gums from denture movement. Moreover, a full denture placed in the upper jaw severely reduces the sense of taste.