Benefits of an implant: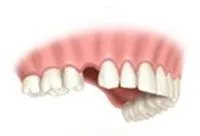 When both the tooth and root are damaged, the best permanent replacement is a dental implant in conjunction with a ceramic crown. This solution both looks and functions just like a natural tooth.
The implant and crown will never decay.
An implant is a non-removable, permanent solution.
In many cases the implant and temporary crown can be placed at the same time the tooth is removed.
Minimal discomfort is associated with implant placement and healing. In most cases you can return to work after the procedure.
Implant placement preserves bone at the site where the natural tooth was removed.
With state-of-the-art computer scanning to identify exact bone density and location, many patients previously thought not to be candidates for implants can now have successful implants predictably placed
Treatment:
Implant placement is usually performed by an oral surgeon or periodontist (gum specialist), and the implant is then restored by Dr. Stranigan, Askeland, or Harris. Immediately following implant placement a temporary crown may be placed on the implant. Once the implant has fully integrated (typically in a few months), a permanent ceramic crown is placed and the tooth functions as though it were natural.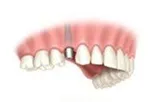 Alternatives To An All-Ceramic Crown On Implant
Tooth-supported fixed bridge
A traditional bridge involves grinding down adjacent teeth to support the bridge. It is a stable solution with good esthetics and function that is fairly easy to install. However, this alternative has two main disadvantages: continuous bone resorption in the edentulous area, and sacrificing healthy teeth on behalf of the bridge.
Removable partial denture
This is the least stable form of tooth replacement, which may greatly affect both function and comfort. A removable partial denture is made with a metal frame covered with pink plastic gums and white plastic teeth.The benefits are few but do exist: adjacent teeth aren't affected. It is easily and quickly installed and relatively cheap.
Resin-bonded bridge
This alternative has some clear advantages: it is quickly installed, functions well and, since it is made of ceramic, it gives a high esthetic result. Moreover, natural healthy teeth aren't affected. But it is not very permanent, and therefore rarely a good option. The resin-bonded bridge will eventually come off – probably after just a couple of years – and will then have to be reinstalled and possibly a new restoration made.