It is our goal to keep your mouth healthy, your teeth fully functional, and your smile bright — and we are proud of all the services we offer to do exactly that. At the same time, we want you to understand all that modern dentistry in general has to offer you. To that end, we have assembled a first-rate dental library in which you can find a wealth of information on various dental topics, including:
From a thorough professional cleaning to a full smile makeover, there is an amazing array of services that cosmetic and general dentists offer to make sure your teeth stay healthy, function well and look great. If your smile is not all you want it to be, this is the place to start. Read more about Cosmetic & General Dentistry.
When you have a dental emergency — whether it's caused by a sudden accident or chronic disease — your teeth and/or the tissues of the mouth that surround them need to receive proper care right away. It's also important to be aware, before you're actually in the situation, of what you can do to ensure the best outcome. Read more about Emergency Dental Care.
This is the branch of dentistry that focuses on the inside of the tooth — specifically the root canals and sensitive, inner pulp (nerve) tissue. When this tissue becomes inflamed or infected, a root canal procedure may become necessary. But contrary to the popular myth, a root canal doesn't cause pain, it relives it. Read more about Endodontics.
If you are missing one or more teeth, dental implants offer the comfort and security of a permanent replacement that looks and functions just like your natural teeth. Dental implants also help preserve the tooth-supporting bone in your jaw that naturally deteriorates when even one tooth is lost. Read more about Implant Dentistry.
Oral health is an essential component of general health and well-being. Good oral health means a mouth that's free of disease; a bite that functions well enough for you to eat without pain and get ample nutrition; and a smile that lets you express your happiest emotions with confidence. Read more about Oral Health.
A major goal of modern dentistry is to help you keep your teeth and gums healthy for a lifetime. By following a conscientious program of oral hygiene at home, and coming to the dental office for routine cleanings and exams, you have the best chance of making this goal a reality. Read more about Oral Hygiene.
The word "surgery" often brings to mind a stay in the hospital, general anesthesia, and perhaps a lengthy recovery period. However, the experience of having oral surgery is usually very different from that. Some common oral surgery procedures include: tooth extractions, dental implant placement, and biopsies of suspicious oral lesions. Read more about Oral Surgery.
Adults and kids alike can benefit from the boost in self-confidence that comes from having a great-looking smile with beautifully aligned teeth. Orthodontic treatment can even improve chewing, speaking and oral hygiene in certain cases. And with today's virtually invisible orthodontic appliances, it's possible to keep your treatment a private matter… until your new smile is unveiled, of course! Read more about Orthodontics.
It's never too early to get your child started on the path toward a lifetime of good oral health, and there are many services to do exactly that. Monitoring your child's dental growth and development, and preventing and intercepting dental diseases along the way, is the primary focus of pediatric dentistry. Read more about Pediatric Dentistry.
If you want to keep your teeth for life — a completely reasonable goal in this day and age — you need to make sure the tissues that surround them are also healthy. Should gum problems arise, you may need periodontal therapy to restore diseased tissues to health. Read more about Periodontal Therapy.
In the field of dentistry, new technology is constantly changing the way diseases are diagnosed, routine procedures are performed, and illnesses are prevented. Although they may seem unfamiliar at first, new and improved dental technologies offer plenty of real benefits for patients. Read more about Technology.
If you have lost an entire arch of teeth (top and/or bottom), or are soon to have your remaining teeth removed because they are too unhealthy to save, you may be able to replace them with fixed dentures supported by dental implants. Doctors and patients alike prefer fixed over removable dentures because they:
Look, feel and function just like natural teeth
Don't slip when you eat or talk
Prevent bone loss in the jaw
Last a lifetime
How It Works
Dental implants serve the same purpose as the roots of natural teeth: anchoring the replacement teeth to your jawbone. Just like natural tooth roots, they lie under the gum line and therefore are not visible in the mouth. Only the lifelike prosthetic teeth attached to them (the fixed denture) can be seen by you or anyone else. Because dental implants are made of titanium, a metal that has the unique ability to fuse to living bone, they are extremely stable and reliable. How many implants are needed? The number varies because each individual has unique conditions: Depending on the volume and density of the bone in your jaw, you will need as few as four implants or as many as six for your new teeth to function as well as a set of healthy, natural teeth.
What to Expect
The surgery to place dental implants that support a fixed denture is a simple, routine procedure carried out in an office setting, under local anesthesia in most cases. (If you need to have failing teeth removed, that will be done first, often the same day your implants are placed). After numbing the area, the appropriate number of implants will be placed in your jaw at precisely planned angles and positions to maximize support and avoid anatomical structures such as nerves and sinuses. Depending on how many implants are needed, the surgery can take anywhere from one to three hours. Most people who have dental implants placed find that any post-operative discomfort can be managed with over-the-counter anti-inflammatory medication such as ibuprofen or acetaminophen. Some don't even need to take that.
What happens immediately after surgery will depend on what's best to promote healing in your individual situation. Sometimes a set of temporary teeth can be attached immediately, so that you can leave the office with new teeth. A few months later, your permanent replacement teeth with be installed. In other cases, the implants will be left to heal for several months before any teeth are attached. Sometimes that is the best way to insure that the implants remain undisturbed as they go through the process of fusing to your jawbone, which is known as osseointegration.
In either case, you will need to go easy on your newly placed implants during the crucial healing phase following surgery. You will be advised to eat a softer diet and avoid hard, chewy foods until the process of osseointegration is complete — about three months. While this may seem like a long time, keep in mind that people who wear removable dentures often avoid these foods permanently. The good news is that once your implants have fused to your jawbone and your new permanent teeth are attached, you will be able to eat anything you want. In fact, you are likely to forget you even have dental implants!
Related Articles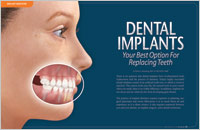 Dental Implants – Your Best Option For Replacing Teeth Dental implants have many advantages over older methods of tooth replacement like bridges and dentures — from the way they function and feel to the way they look and last. Vigorous research has documented and confirmed that in the right situations, dental implant success rates are over 95%. It is no exaggeration to say that they have revolutionized dentistry. They may even change your life... Read Article